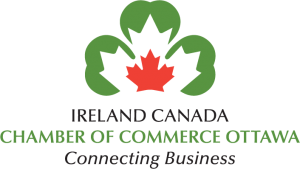 Mortimer Marketing Group has helped the Ottawa Ireland Canada Chamber of Commerce update and refresh their digital marketing branding while providing social media support.
Mortimer Marketing Group worked with the chamber in a collaborative effort to help develop a new logo. The new logo reflects the vibrancy of the organization and acknowledges the Ireland Canada Chamber's mission to be a supportive resource to its members fostering economic development in the local, national and international business communities. The logo's colours and symbols reflect Canada and Ireland and is unique to the Ottawa Chapter of the ICCC.
Mortimer Marketing Group has developed a social media strategy for the chamber and helped carry out implementation and community management.
Mortimer Marketing also provides ongoing social media strategic direction with email marketing, event management and promotion efforts.